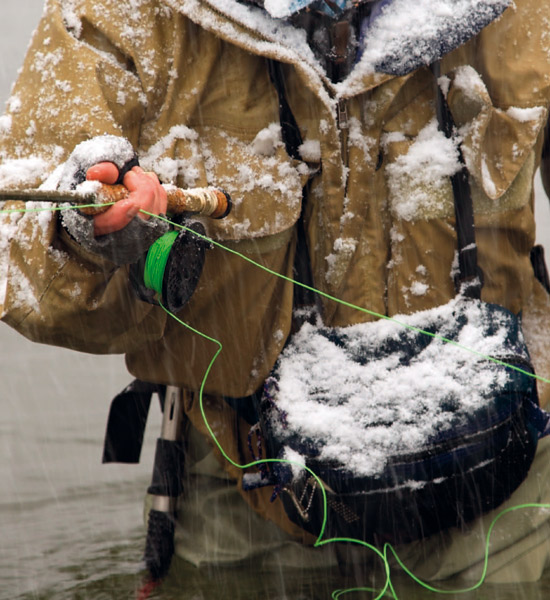 Edges deep with snow, pure loneliness and the hope of catching a big huchen or the last big trout of the season; that's what makes the fishing in winter so exciting and special. Chilly days, heavy snowfall, icy wind, cold fingers and toes; none of this matters. What counts is to be outside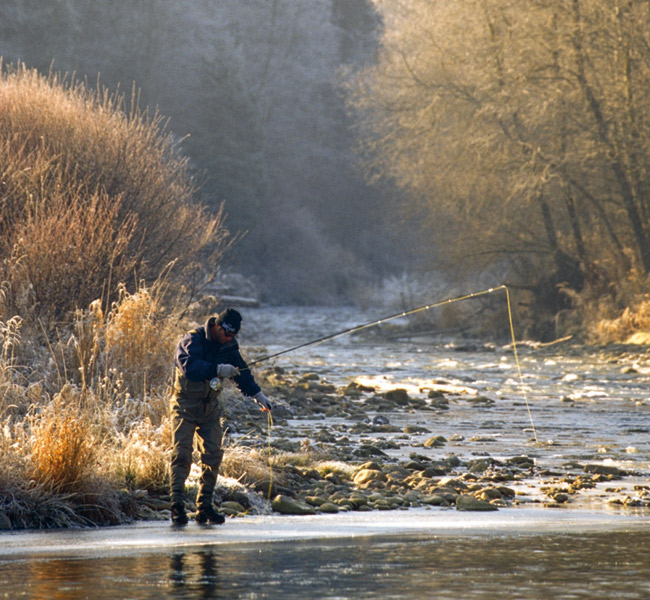 , chasing that big fish.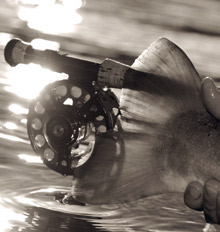 There are days when I drive to work and I have a certain feeling, a feeling that something is going to happen on the fishing front. Warm, rainy weather in winter, especially after some long and cold frosty weeks, with low and clear water is a typical example. It was not so long ago when there was a change in the weather, which makes everyone fishing for Huchen so skittish; I got one of 'those' phone calls in the afternoon. I hate picking up such calls, knowing that all of my buddies are out on the river, while I'm at work. I saw the number of my best friend Sebastian on the display; I took the call and the first thing I heard was a scream: "Huchen! 119cm! Thanks buddy!" That's the way it goes. It is weird; on one hand you´re happy for your friend and on the other hand you think, "Why not me!" It gets even harder when you see one of those big fish. Hope drives you out to the river. It's clear that those catches are rare and elusive, especially on the fly. Huchen over 1m don't come easy and you have to invest a lot of time to get a fish like that. One fish in the 20 pound class during winter is really good, at least on my home rivers in Bavaria. But it's possible. The only thing you need is patience, staying power, the right knowledge, equipment and last but not least, a good portion of luck. That's all! On reflection, it is not only that big fish thing which makes fishing in winter so unique. Besides this groovy, fishy, outdoors feeling, winter offers you the possibility to fish in absolute loneliness and silence. No crowds. This is a fascinating experience, even better when the river is covered with snow and ice. Somehow, I really like this cool atmosphere, when the soles of your wading shoes make this harsh sound while walking through the snow and I am alone with my thoughts and memories. A typical fishing day in winter.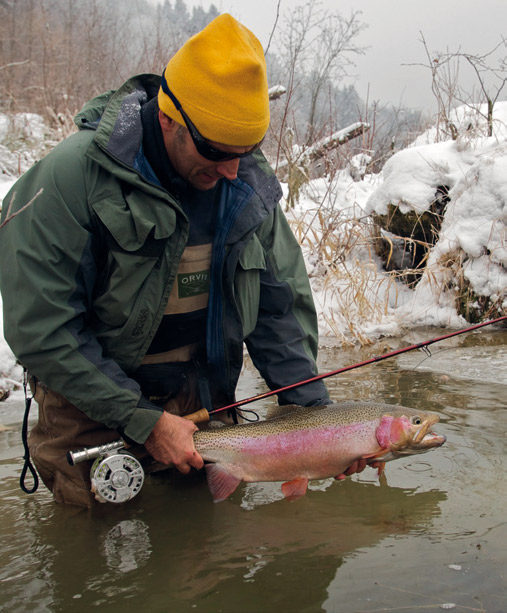 Most of your body heat is lost through your extremities, so a warm hat is essential. I still like my old Patagonia Duckbill Cap, although every time I wear it, I have to go through some stupid jokes and laughs from my buddies. Maybe it´s the color: dark blue and pink, but that's the way it was in the early 90´s. Most of the time I use fingerless gloves, made with a fleece outer shell and artificial leather liner, and always have a spare pair ready in my jacket or backpack. These gloves are a good wind protector, even when they are soaked with water. I hate frozen toes so for all of my fishing in winter I use wading shoes one size bigger than normal. You need the space for thick Merino socks. I am also mindful to try to minimise sweating. When I have to walk a while, I walk slowly; even breathable clothing cannot take away all the moisture from sweating. Moisture takes away a lot of your body heat and as a consequence you will soon feel very cold or, at worst, suffer hypothermia. That´s why I never try to follow Sebastian while he is fishing. He is too fast for me. I keep my own rhythm and usually meet him later just in time for when he opens his thermos jug with hot tea and rum, including the "Brotzeit"; the Bavarian definition of a lot of good stuff to eat.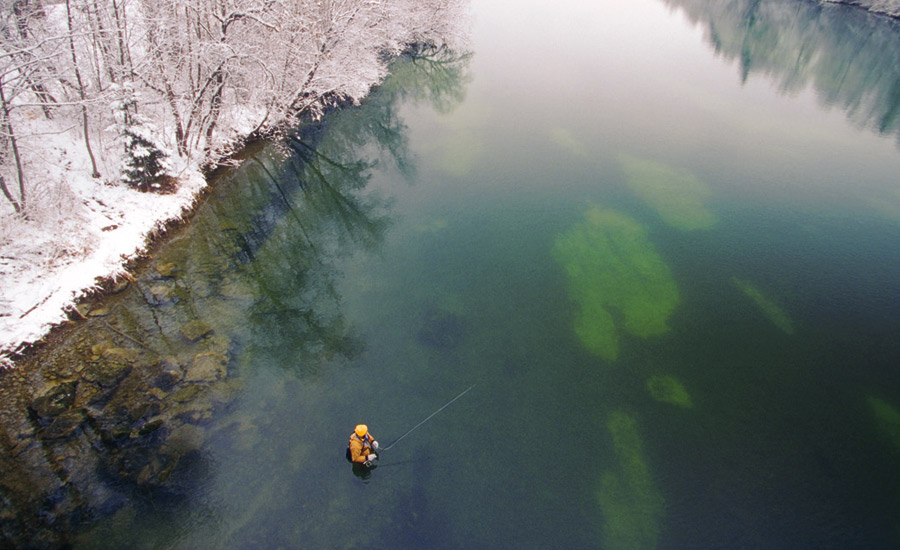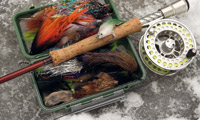 Big Tubes and Streamers 
Most of the time I use 9 or 10 weight rods with big guides (they don´t freeze too easily in cold conditions) and lots of backbone to set the hook right when a Huchen bites. I like Sink Tip lines around 175 to 250 grains for all of my winter fishing. For really deep spots, I might pick a line with 300 grains or more, but it depends on the river. I rarely use shooting heads; don´t forget it is cold outside and since I work my fly, I don't want to lose my grip on thin running line. Leaders can be short, about one meter in length and 0,40mm in diameter.If the rainbow trout are still open I use tube flies with hooks big enough to hold a Huchen and small enough that I still have the chance to hook a rainbow trout. It's funny but a lot of my bigger rainbows have been caught while fishing for Huchen. Not a bad reason to go out fishing. Later, when we are only allowed to fish for Huchen, I also choose Streamers with big hooks in size 3/0. Size, color and pattern are dependent on the water level and my mood. If the water is clear I fish Tubes and Streamers that are tied sparser and less colorful and flashy than for muddy water.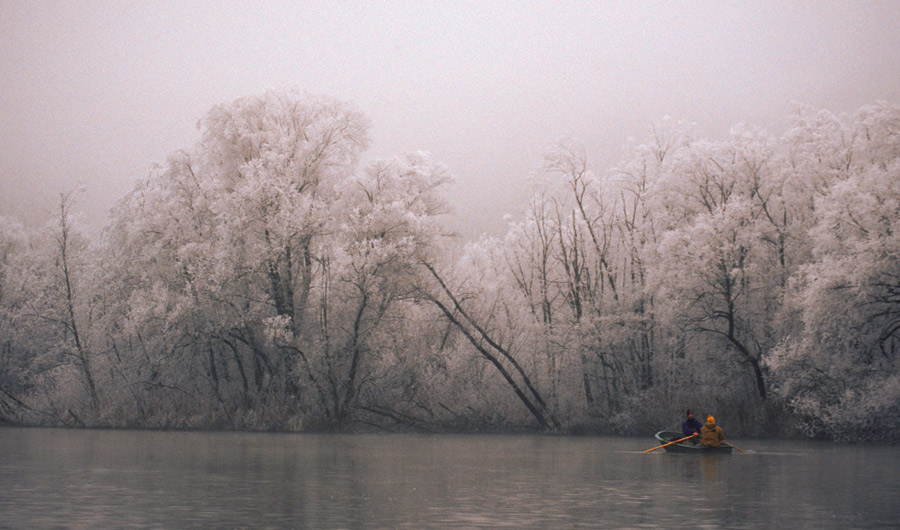 Normally, the presentation of my streamers does not differ that much from trout fishing, except that everything is bigger. A good way to fish the streamer is to cast it to the other bank, slightly upstream or at a 90-degree angle. In wintertime you seldom fish fast moving places so there is no need to mend the line, but I still give the fly enough time to sink. As soon as the current presses into the line and forms a bow downstream I let the streamer swing to my shoreline. During this swing I hold the fly line and let the streamer move up and down with short pulls of my hand. If the streamer gets too fast I give a little bit of line and slow it down. This is a pretty good way to cover lots of water, fish the streamer with movement and give the fish enough time to grab the fly. Remember, the water is cold. Actually this technique is a pretty good way to fool the big rainbows. When I'm out for Huchen only, the other useful technique is very simple. Again, cast to the other bank, if necessary let the fly sink and strip the streamer towards you in various pulls. Sometimes fast, sometimes slow, always dependent on the situation. It is important that you fish not only the deeper holding places, but also, and perhaps more importantly, those places immediately upstream or downstream of the holding pool. When Huchen are on the hunt, and believe it or not they can move quite a distance, you can find them in astonishingly shallow water which is often the best way to get one on the fly.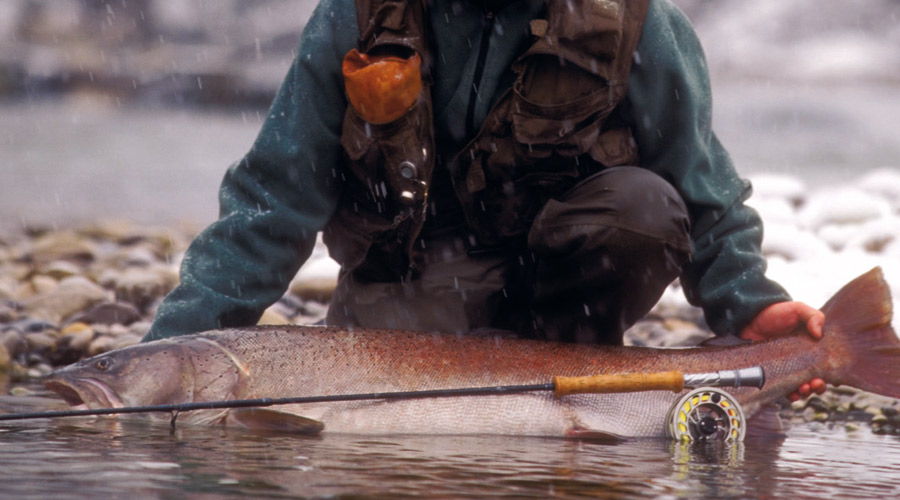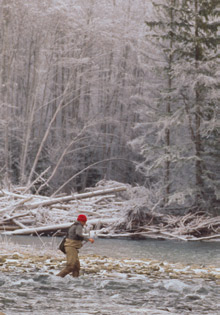 Ready for the next round
When I talk about this morning I have to say, it was business as usual. No Huchen showing up but we both had a good rainbow trout in the 5 pound class. We kept those fish. My girlfriend loves sashimi or sushi and those fish are perfect, especially when I create a nice dinner out of it. Around noon the temperatures were rising a little bit and Sebastian tried to catch another bow with some nymphs. I changed to a bigger tube and tried the same riffles, pools and runs as before. What a difference compared to the dull light in the morning. Now I was able to see the whole structure of the bottom and was able to present the tube much better around stones or trees in the water. I saw a big Huchen chasing my fly, when another one, of course much smaller, darted out from the middle of nowhere and grabbed the fly. Oh man, I was so close to hooking a big one and then a small one ruined my chance of success. I lost the small one of around 70 cm. My legs turned to jelly after that and the only thing left was the certainty that there was a huge Huchen around. I told my story to Sebastian when I met him further downstream. The only thing he said was, "Thomas, you´re not alone!" At least we had a renewed motivation to fish until dawn. In the last light of the day we covered our hot spots, but nothing happened. No big splash behind our flies. In the dark we called it a day and walked back to the car. Well, I had to bite hard on this experience. I started to freeze a little bit and was happy when the seat heater in the car started to work. I was soon closing my eyes (Sebastian was driving the car), looking forward to a hot bath, a beer and the next adventure in wintertime. By the way, when I get a phone call at work this winter, I can take it easy. I will just open the big freezer at work and look at my big Huchen, caught a week ago, waiting for the traditional dinner at our fishing hut. Now, that is a good feeling.